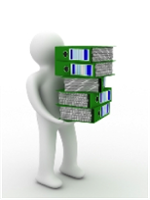 In today's business environment IT organizations are faced with the continuous challenge of providing consistent, reliable, secure and scalable services that will support the company business objectives efficiently and effectively.  If that is not enough, the IT leadership must also ensure that the IT organization is no longer just a commodity service provider, but is also a valuable partner to the business helping to create value for the company.
We recognize that IT is a strategic asset and important contributor to economic success for our clients and a powerful resource to help companies achieve their most important objectives. From comprehensive IT risk analysis, to IT compliance, to security assessment, to project management, our technical consultants bring deep technology knowledge with understanding of business perspective. Carrtegra technical consultants offer the services you need to reach your goals.
Experienced Professionals
Successfully addressing your IT challenges requires experience and expertise to manage solutions within the perspective of your unique needs.  Our organization offers you a wealth of experience from professionals who have worked with multiple levels of business in addressing IT management, security, and compliance issues.
Comprehensive Services
Our clients benefit from a focused service line that identifies and addresses their specific needs while generating value by executing IT Management Services:
IT Risk Assessment
IT Management Advisory
General Computing Controls
Application & Operating Controls
Pre & Post Implementation Reviews
Regulatory Compliance
IT project management
IT Policies & Procedures
Security Strategy & Planning
Security Assessment & Consulting
Security Policy & Procedure Development
Business Continuity Planning
Sourcing
Complex data analysis (IDEA, ACL)
Our Approach
We leverage a risked-based approach and industry standard frameworks such as ITIL and COBIT standards ensuring our clients are focusing on what is important and not locked into using proprietary tools and methods.   We can work as a partner or peer effectively transferring knowledge to client internal resources.
To learn more about our List of Services click here
Get our List of Services for IT Management Services that Drive Value