Get Our eBook: How to Implement Sarbanes-Oxley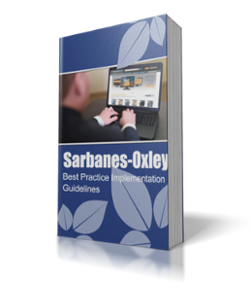 Every business that is required to implement Sarbanes-Oxley will face many challenges. These challenges will span virtually every area of the business. In order to successfully implement your Sarbanes-Oxley systems and procedures, you will need to:
Have an highly experienced team with deep expertise in both SOX compliance and your industry
Understand the technology challenges
Benefit from the experience of others
As leaders in helping companies achieve their SOX goals, we have developed a comprehensive FREE eBook entitled 'How to implement Sarbanes-Oxley Best Practices' for you to use during your SOX implementation.