Effective Change Management – Documenting Changes
In the previous blog we discussed the roles and responsibilities in the change management process, which need to be clearly defined to establish accountability. Today, we are discussing how to document changes in the change management process.
The key steps of change management process are:
Planing
Evaluation
Documentation
Review
Approval
Communication
Implementation
Post implementation review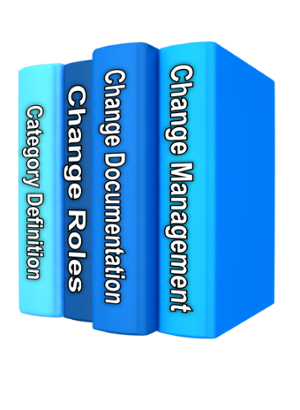 Effective Change Management Process - Change Communication
Documenting changes do not only happen during the documentation step. Changes need to be documented and updated throughout the change management process. Nowadays, most organizations use change management softwares to manage change requests (CR), review, and approval workflows.
Smaller organizations with resource constrains may still use simple Change Request Forms (CRF) to manually manage the CRs, review, and approval processes. Important information must be captured for each CR regardless the change management tool (sophisticated software or CRF). The mandated information is required for adequate review by others (approvers and change control review board) for approving the requested change.
To get a FREE copy of our quick start "Change Management - Change Request Form (CR).pdf" simply fill out the form at right and you will be taken to the download page.
Change Management - Get Our Change Documentation Template